Beer and BBQ… The Ultimate Combination of Gift Giving Awesomeness
Why? It makes it so easy… unless you have one of those… err guys who have everything and I mean everything… but for the Beer and BBQ lover, there are endless amounts of gadgets, accessories and fun stuff to consider.
While it can be difficult knowing what gift to buy a man on any occasion, it's easy to buy something you think would be valuable, but just doesn't cut the mustard.
With gadgets, accessories and all out fun stuff, you can't really go wrong, because men love their toys and they love having a laugh over a cold one at a bbq. They also love hosting the best BBQ party around, and to be the talked about 'Beer and BBQ' bloke.
So if you have a Beer and BBQ lover in your life, consider the following ideas and get that damn shopping out of the way… there's fun to be had in life as well!
If by chance your backyard is BBQ-less, a BBQ could just be the awesomest gift ever! Then you'll have years of gift giving ease to come, with all the extras to go with. Check out these BBQ's (that you can purchase now and pay later if you like) and get on with a summer full of BBQ fun. See them here
21 Great Gifts for the Beer and BBQ Buff
Following are some unique, some funny yet practical BBQ stuff and beer gadget ideas to touch the heart of your favorite Beer and BBQ lover.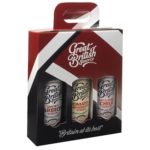 The ultimate gift for the Barbeque enthusiast, try adding some smokey BBQ sauce to chicken, or add some fireworks to BBQ meats with these super tasty chilli sauces. What you get in this pack is a very tasty 330g Smokey Barbecue Sauce, 320g Tomato & Habanero Chilli Sauce and 335g Hot & Sweet Chilli Sauce $29.95. Buy Now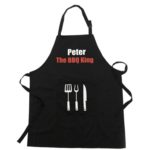 Great gift for the BBQ king in your life… personalised with his name (or hers) up to 12 letters long. Made from pure cotton, these aprons will show whos in charge of the BBQ! Got an up and coming BBQ enthusiast following in the BBQ king's footsteps? Get one for the little BBQ king… they'll love it. See them here
Please note: Allow 4 weeks for personalised products to be delivered.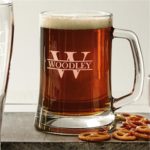 The gift of a beer glass with a difference, get the good times flowing in style. He won't have to wonder which drink is his and it looks very upper class. Perfect for any man who is the king of his castle. Holding 500mls, this heavy-duty mug is perfect for toasting, and keeping your beer colder longer. $24.95 Buy Now
Also available in a twin set of two 425ml beer glasses for $39.95  Buy Now
Please note: Allow 4 weeks for personalised products to be delivered.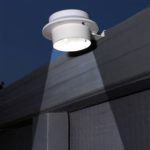 Is he always complaining about outdoor lighting when barbequing? These are great to see your BBQ food cooking. Hook one up above your BBQ and as long as it's been sunny, you'll have hours of light to cook with. Get a few and scatter them around the perimeter of your backyard space. No outside power needed! Also great for security anywhere outside it's needed.
Size 12.0cm x 6.3cm x 6.3cm. $39.95  Buy Now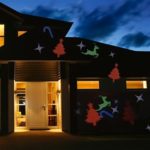 This would be great for the show-off in your life. This 20cm long projector has 7 slides that are included to help create dazzling displays of images and coloured lights on walls or any flat surface. Use on you house, trees, fence or bushes, anywhere really, creates an instant atmosphere. Slides include a couple of Xmas themes, Halloween pumpkins, Easter, Snowflakes and more, so you can use it for years to come. Great for parties and entertaining. $129.00 Get yours now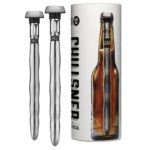 Who forgot to chill the beer? Doesn't happen too often but with this it doesnt matter. Chillsner is the one and only in bottle, drink-through beer chiller. Its like going through the lines of a keg I guess. Just freeze, insert into any standard size beer bottle and never suffer through warm beer again. Smooth, sturdy stainless steel frame freezes, quickly chills perfectly and cleans easily. Comes as a set of two with the freezer storage case, and coasters with instructions. A great conversation piece at parties and BBQ's also! Get yours here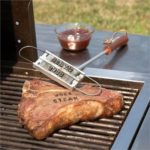 Let him never be confused who's is who's, with this top selling BBQ branding iron.
Name each guests steak or give them funny nicknames or just the doneness level, whatever you like with this. Comes with a set of 52 letters so you can brand anything. Also a simple way to get a few laughs. A gift with a difference so your Beer and BBQ lover can experience the real fun of barbequing. $24.99 See it here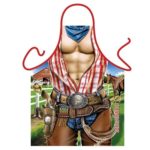 Does your man think he's a bit of a sex symbol? A stud? Well now you can make it so with this hilarious novelty apron, perfect for the man with a sense of humour who loves to BBQ. Everyone will have a laugh at your next BBQ with this one.
This apron is one size fits all, is Italian made with a machine washable polyester fabric. $32.99 Shop Now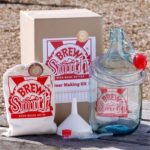 Does he need a change from the old home brew taste? With this Brewsmith Beer Brewing Kit, it's craft beer all the way. Give the gift of flavour! Citrus Blonde Ale or Aussie Wattle Pale Ale, it's time to make your own craft beer! After one hours work and three weeks fermentation, your perfected coldie is complete. The easiest and best way to create brilliant beer, right in your home. With this premium beer making kit, he can make great tasting craft beer. $69.99 Check it out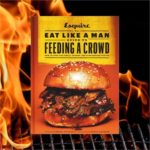 A book that has all the real food that men love to eat and wish they could cook. This is for guys who want to host big crowds and need the scaled-up recipes, advice, and motivation to pull it off whether they're cooking breakfast for a houseful of weekend guests or planning the backyard BBQ that trumps all. This book has it all, with 233 pages, choc full of awesome recipes and BBQ ideas for anytime of the day. Plenty of handy tips for keeping guests happy too. He will love this! Get it here $44.99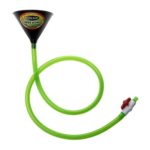 Beer Bongs have been popular since the 60's through to the present day. Let gravity do all the work… the beer bong forces the beer to the bottom and the froth to the top, for young and old… You're never too old to do a beer bong.
Makes a great gift and liven's up any party! Have a Chug-a-lug contest with your mates.
Get your beer bong here $22.99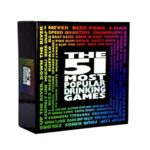 The ultimate recipe for a winner of a BBQ Party or Friday night. Packed with world famous drinking games for the guy who loves to have the funnest do. Some of the more unknown games may seem a bit complicated if you've had too much, but this is why it's great for the beer lover. Play these over a few rounds of beer for some great neverending fun and laughs. Check it out here. $34.99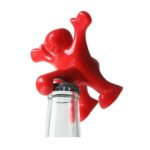 These are hilarious and adorable at the same time! What is not to love? Great for anyone who has a slightly dirty sense of humor and is a big beer drinker. Great addition to any bar, this happy man bottle opener is sure to get some laughs. Great price for a stocking stuffer!
Get it now $12.95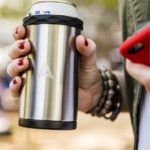 When a cold can or bottle is placed in this Arctican beer cooler, it will stay nice and cold for as long as three hours. We know a beer won't last that long but just shows how icy cold your beer can be. Our aussie summer is hot and can send beer warm quite quickly, so this is perfect throughout the whole summer of BBQ fun. Just freeze the cooling core first. Get your cooler here $39.99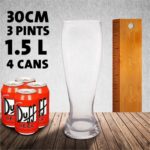 This is the beer glass for the beer lover with a serious thirst! Holds four stubbies of beer. Now THAT is a glass of beer! Does anyone you know complain they don't have a glass big enough. Give 'em the biggest one you can find! Great gag gift too. Makes for a great conversation piece and brings out a lot of laughter. I recommend this glass to any serious beer drinker. Get it here $21.99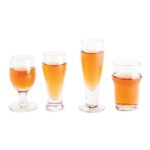 Are you or your mate having a craft beer tasting BBQ or get together? Now there's an idea for a different themed BBQ party! And these Craft Mini Beer Shot Glasses would be just the thing to use at a Beer and BBQ do. Maybe you have a shot glass collector. This set is a great addition to an already extensive collection of shot glasses. 4 Different Unique Styles makes this set look great, even as a bar decoration. See them here $24.99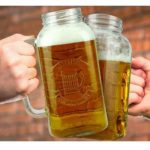 Not for the weak, this beer stein is big, tough, and strong enough the handle anyone with a strong grip. With a Mason Jar design, this huge beer stein incorporates hip-style and an arm workout too. Made of heavy duty glass and weighing 3kg and boasting a 2L capacity. A great gift idea for an 18th or 21st, or for that special beer connoisseur in your life (yourself included). Cheers to that! Get it here $29.99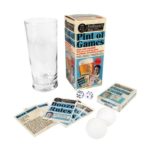 Pint of Games is the perfect game for a group of beer guzzling friends, be it a party, BBQ or just a Sunday arvo session. Pint of Games contains a pint glass, two ping pong balls, two dice, one pack of playing cards plus five drinking game cards outlining the rules of each. Great fun in a pint glass! Just add mates and beer for a top night out (or in). Get yours here $34.99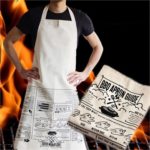 Looking for tips and recipes for the barbie? Lift up ya skirt! (err apron) This apron is printed with all the information that you need to cook a BBQ that family and guests will remember. And it's all upside down, so you can lift up the lower part and read it as you go. Stylishly designed in black and white, you have cooking times, recipes, doneness guide, tips and more. One size fits all. See it here $39.99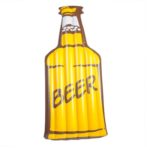 If your Beer and BBQ lover has everything, maybe he needs something different to add to the collection. I wouldn't say it would be easy drinking your beers on this but hey, anything's possible! Simply fun in the sun cruising on inflatable beer. Perfect for a pool party or just relaxing on the weekend. Get yours here. $49.99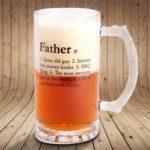 Can be confused with farter? So true is no. 5 on this Stein Beer Glass for Dad. A unique gift for 'Some Old Guy' you know, who happens to be a 'BBQ King' or 'The most awesome guy in the world'. Also a great 'Interest free money lender'. The beer drinker in your life whether it be Dad or Hubby, will love drinking out of this one. Holds one stubby. Australian designed, hand wash only.