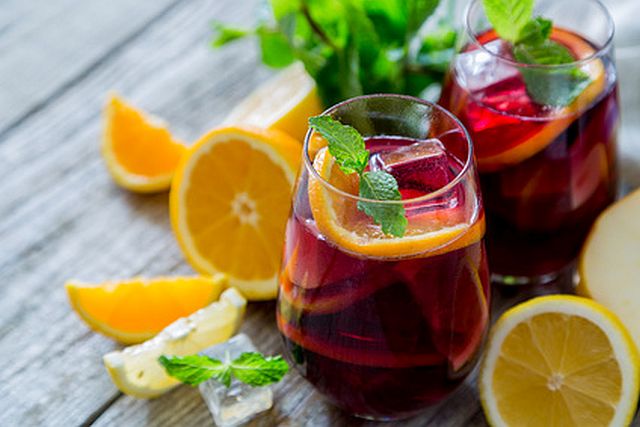 Simple Sangria Recipes
The simplest of Sangria recipes is the ultimate crowd pleaser and is shown below along with a fancier type Sangria recipe. If you want to get all creative, add a bit more booze, and show off your cocktail skills and hosting finesse, try it out!
Sangria is a Spanish style of punch, and is typically made with red wine, fruit, juice, brandy and soda.
A popular, refreshing party drink enjoyed by all types of people from all over the world, this perfectly summery concoction is as easy as it gets. Also if you want to be creative, the flavour combinations are endless.
Don't bother going for a mega expensive wine, as Sangria loves cheap wine. Try a light red like Shiraz, or maybe a Cab Sav, but that is solely up to you. In a nutshell, Sangria is a delicious and inexpensive drink that budget-conscious party hosts should have no second thoughts serving.
Have a couple of jugs ready to go, whack it on the table, and your guests will need no persuasing to start pouring.
Easy to make, easy to drink, and probably the cheapest cocktail you can make this summer. Try it for yourself…
A good measure is 1 bottle of wine per 2 people, give's your guests approximately 4 drinks each.
Simple Sangria Recipe
Ingredients
1 Bottle Red Wine
1/2 cup brandy
1/2 cup orange juice (optional)
2 tblsp sugar
1 lemon or lime thinly sliced
2 oranges thinly sliced
1 cup soft drink (lemonade, soda water or ginger ale)
Ice for serving
Add more or less fruit if you like.
Method
Combine the Wine, Juice, Brandy and sugar
Stir until sugar is dissolved
Add in the fruit
Chill for 3 to 4 hours
Before serving add the soft drink
Pour over ice
Double it, triple it, quadruple it… it's whatever goes with Sangria!
Here is a fancier (and boozier) Sangria Recipe
Berry Melon Rose Sangria
Ingredients
1 Bottle Rose Red Wine
1/2 cup Countreau (or triple sec for the cheaper version)
1/2 cup Raspberry Vodka
2 Tblsp Brown Sugar (or to taste)
1/2 cup Watermelon Cubed
1/2 cup Honeydew Melon Cubed
Handful of Strawberries halved or quarted
Lemonade or Soda
Lemon Slices
Ice for Serving
Method
Combine the Rose, Cointreau, Vodka and Sugar
Add to this the Melons and Strawberries
Chill for 4 hours or more
Before serving add the soda or lemonade
Pour over ice and a slice of lemon
Enjoy!
Of course you can make any Sangria with any wine you might have on hand, red wine, white wine, and even sparkling wine.
Sangria is unbelievably easy to put together and the finished product should always be pretty good as Sangria is quite forgivable when it comes to fruit usage and mixers too.
The general rule is, if it sounds good to you, it probably will be. Try freezing some grapes and using them as ice cubes or any fruit for that matter.
Pretty much anything goes with Sangria, just be sure to top up that glass and enjoy!
I'm curious what your go-to Sangria recipe is? Care to share? Comment below.